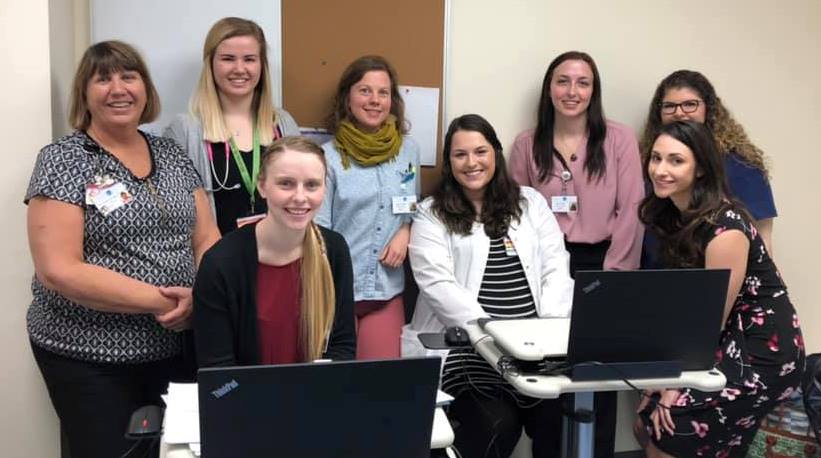 Whitney Young Health, in partnership with the Alliance for Better Health and the Hudson Mohawk Area Health Education Center, designed Project ENSURE PCMH, an innovative clinical practicum opportunity for Baccalaureate nursing students to experience working in a Patient Center Medical Home (PCMH). Whitney Young Health is a Level 3 Patient Center Medical Home, a care delivery model whereby patient treatment is coordinated through their primary care physician to ensure they receive the necessary care when and where they need it, in a manner they can understand.
What is unique about Project ENSURE PCMH?
Whitney Young Health provides a community clinical setting to enhance nursing students' confidence and knowledge in systems-based practice. The PCMH model familiarizes nursing students with a comprehensive approach to ambulatory care and enhances their understanding of the PCMH model.
The Project ENSURE PCMH program aims to promote innovation in theoretical and clinical practice using the PCMH model at Whitney Young Health, where over 20,000 men, women and children receive their primary medical, dental and behavioral services annually.
About the first Project ENSURE PCMH Class
The first class, comprising of six Baccalaureate nursing students from The Sage Colleges, conducted their training and clinical rotations from February to April. The nursing students received experience in working with patients at our Albany, Troy and Watervliet Health Centers as well as our mobile health unit, Whitney on Wheels. The areas of focus were Pediatrics, Woman's Health, Obstetrics and Family Practice. The students were supervised by Gina Picarillo, Director of Nursing at Whitney Young Health and Elisa Sacco, PCMH RN preceptor.
We spoke with Rachel and Logan, two of the six BSN nursing students who are a part of the first class, on what they experienced and learned during their time at Whitney Young Health:
Describe your clinical experience at Whitney Young Health?
Rachel: Throughout my clinical experience at Whitney Young Health Center I was able to work with multiple RN Care Coordinators and Advanced Practice Nurses in different specialties. Working with all of the different nursing staff gave us an inside look at the importance of care coordination and patient care for the under-served population. The nurses have been phenomenal!
I was able to see how hard the nurse's work with patients and the health care team to provide the best quality of care, to ensure patients are receiving the support they need inside and outside of Whitney Young Health. The nurses advocated for their patients on a daily bases, ensuring they received the care they required and deserved.
Elisa, our RN preceptor, was so helpful in making us feel empowered throughout our Capstone experience. She encouraged all of us to continue to be curious, ask questions, and learn throughout our careers. She was a major support system for each of us throughout our time here, and we could not be more thankful for being able to get to know her. As I continue through my nursing career, I hope to be able to stay in contact with her and aspire to be as caring and thoughtful as she is.
Logan: During my time at Whitney Young Health, I was able to learn a lot about how community health can positively affect a patient, as opposed to them being in a hospital. We learned a lot about diversity and the different barriers patients face when trying to receive health care, especially here as there are a wide variety of different cultures.
Can you describe a patient situation where Care Coordination made a difference in the patient's care experience?
Rachel: I saw how care coordination made a positive difference once with a RN Care Coordinator and a Self-Monitored Blood Pressure Program (SMBP) patient. The patient had come and already completed the blood pressure monitoring intake with the nurse and documented their blood pressure. The patient and the nurse were discussing different situations on why the patient's blood pressure was high. We had to go through their diet on a typical day such as how they ate a bag of chips every day. With the program, you work with them to make small goals as you can't expect a patient to completely change their life instantly. We had set smaller, realistic goals such as eating a bag of chips every other day.
Later, the patient's blood pressure had actually gone down by the next visit and continued to decrease throughout their time in the program. Thanks to the SMBP Program, they learned what foods contain a lot of sodium since some of them didn't understand that sodium is in seasonings and other ingredients they use in their food every day.
Logan: Recently, we saw a patient who needed care coordination for her blood pressure. She had never done anything to manage her blood pressure before and she knew it had been high based on her previous visits, as it was almost a hypertensive crisis. She has started on medication to lower her blood pressure and was admitted to Whitney Young Health's Self-Monitored Blood Pressure Program. We were able to discuss with her what causes high blood pressure, how to change her diet and how to manage it on her own at home.
Did you find the patient's preferences were kept at the center of care and did this help provide the patient with managing their chronic illness(es) to live healthier? 
Rachel: I found that the providers were really knowledgeable about all the different cultures that the patients come from and what their preferences were when it came to care. When a patient's culture is taken into consideration it makes them comfortable with their providers and they tend to listen more to what they have to say.
Logan: One time a patient had come in for a follow-up visit in regards to their high-blood sugars. When he came in he stated that he did not like the medication he was and did not want to take it. He then worked with the nurse and the doctor to find a care plan that was going to specifically work with his preferences in mind and help him adhere to the care regimen that would help him ultimately lower his blood sugars. After this new care plan was established, he experienced dramatic drops in his glucose.