Whitney Young Health's Community Prevention & Treatment Services (CPTS) has credentialed and trained staff ready to serve the needs of patients with infectious diseases, including HIV/AIDS and Hepatitis C.
Our programs include:
Project IMPACT, for people with Hep-C
Project COOL, for people at high risk of becoming infected with HIV or Hep-C
Ryan White Program, for people living with HIV.
We also offer testing, medical management, and counseling.
Community Prevention & Treatment Services is located at our Albany Health Center at 920 Lark Drive in Albany.
No insurance? We will work with you to see if you qualify for no or low-cost health insurance.
Walk-in HIV/HCV testing hours are Monday through Friday, 8:00am – 4:00pm at our Albany Health Center.
For more information, please call 518-465-4771 ext. 4621.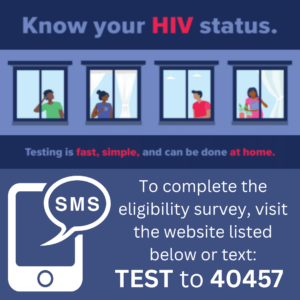 The New York State Department of Health AIDS Institute recently launched a free HIV Home Test Giveaway for eligible participants who may not seek traditional HIV testing services.
Check your eligibility by clicking the link below and completing the survey.
Visit: https://survey.alchemer.com/s3/7102079/HHTG-2022-Fall-Eligibility-Survey