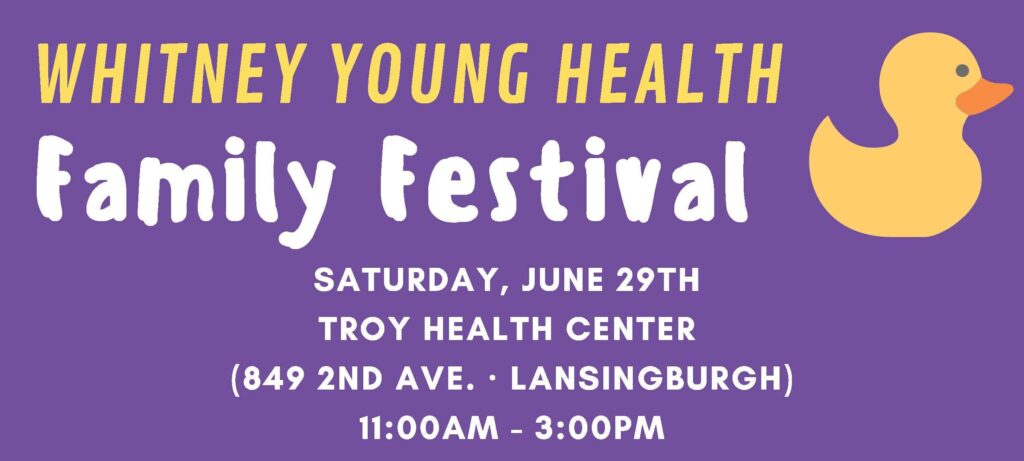 In celebration of the opening of the newly-relocated Troy Health Center, Whitney Young Health is hosting a Family Festival on Saturday June 29th, at the new Troy Health Center (849 2nd Avenue, Riverside Plaza in Lansingburgh) from 11:00am – 3:00pm. Please join us in this fun-filled day of games, prizes, food and drinks, music from JAMZ 96.3 and our first ever DUCK DASH! This FREE event is open to everyone in the community.
The Duck Dash is a fundraising rubber duck race. Prizes will be given out to those who's duck finishes in the top 3 in the race. Below are details on how to purchase your ducks for the race.
·        A Ducking (1 Duck) is $5
·        A Quack Pack (10 Ducks) is $20
·        A Whole Flock (30 Ducks) is $50
If you're interested in purchasing a duck(s) for the Duck Dash, please visit HERE and make your purchase by Monday, June 24th. You do not need to be present at the festival to participate in the Duck Dash. Proceeds will help patients at Whitney Young Health access care they otherwise cannot afford. 
This event is presented by sponsors CDPHP and JAMZ 96.3 of Albany Broadcasting. Other sponsors include AOW Associates, Fidelis Care, Hyman Hayes Associates, Hixny, Jaeger & Flynn Associates and Noble Gas Solutions.
For more questions, please contact events@wmyhealth.org.