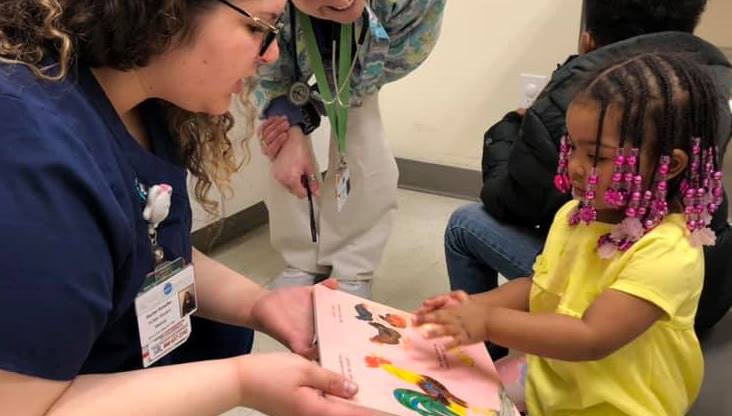 Did you know that 85% of a child's brain will grow in these first 3 years? 
The first five years of a child's life are incredibly important as they are constantly learning new things and building a strong foundation for their future. That is why Whitney Young Health strongly encourages parents/guardians to bring their children in to see a pediatrician for their well-child appointments.
One part of the well-child appointments includes the primary care provider providing two evaluations: the Ages and Stages Questionnaire (ASQ-3) and the Spot Vision Screener.
What is the ASQ-3?
The ASQ-3 is used to help keep track of a child's development, consisting of a short list of questions about what a child can and cannot do. This questionnaire is just one way for providers to see where a child is developmentally. Children from ages one month to five and a half years old are screened.
Why Screen?
Detects delays
Improve child's outcomes
Supported by the American Academy of Pediatrics, Head Start and Medicaid's Early and Periodic Screening, Diagnosis and Treatment program
5 Skills Areas Addressed:
Communication
Gross motor
Fine motor
Problem-solving
Personal-social
It's important to remember that all children develop at their own pace, some developing faster in some areas and slower in other areas. The screening allows our Pediatric team to discover any areas in which a child may be growing at a slower rate.
During the well-child appointment, a Pediatric nurse helps the parent/guardian complete the questionnaire. The results will be reviewed by the Pediatrician and shared with the parents/guardian. If the questionnaire shows some possible concerns, the Pediatrician then advises the parent/guardian on what to do next.
What is the Spot Vision Screener?
The Welch Allyn Spot Vision Screener offers easy and portable binocular testing on patients with limited mobility. The screener offers fast and efficient testing on patients ranging from six months old to seniors. During this screener, horizontal and vertical eye alignment, pupil size, and pupillary distance are measured. Whitney Young Health's Dr. Pradhan, OD and Dr. Vasquez, MD, were the ones who advocated for using this family-friendly tool.
To schedule your child's next well-child appointment, please call 518-465-4771.