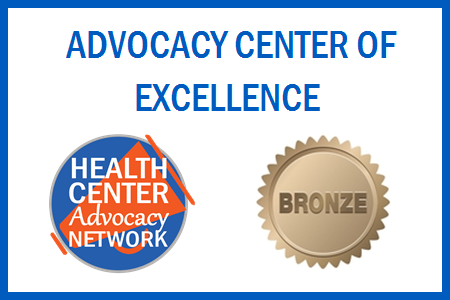 ad·vo·ca·cy: public support for or recommendation of a particular cause or policy.
Advocacy has always played a big part in the Whitney Young Health way of life. When it comes to health care decisions on a state and federal level, it not only affects our 19,000 patients and 185 staff members, but millions of people across the country.This past year, Whitney Young Health formed an advocacy coalition to bring together people from all walks of life to give our health center a voice. That being said, due to our due to the success of our advocacy efforts, we have achieved our bronze level Advocacy Center of Excellence (ACE) status.
This achievement is through the National Association of Community Health Centers (NACHC), a national health care advocacy organization for America's medically under-served and uninsured and the community health centers that serve as their health care home. NACHC encourages health centers to put a focus on advocacy. 
To achieve the bronze level status, Whitney Young Health had to meet certain measures such as, hosting a National Health Center Week event, have a presence on social, invite elected officials to our events, and most importantly, have our supporters sign up as advocates so they can learn the ways on how to help health centers like WYH.
In the future we hope to achieve silver and gold status and we need your help. Whether you're an employee, a patient, a donor or a member of the community, show that you care about what we do and who we serve by signing up. All you have to do is click here and select "Whitney M. Young, Jr. Health Center – NY" when choosing a health center you want to support – it's that easy!