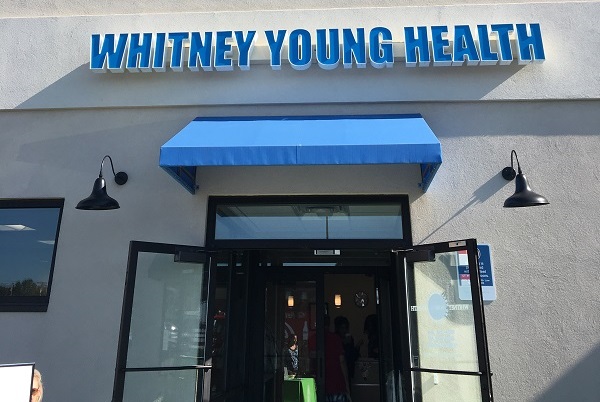 What better way to take part in National Health Center Week than host an open house for your brand new health center? On Tuesday, August 9th, Whitney Young Health unveiled, along with federal, state and local officials, the new Watervliet Health Center with an open house and ribbon cutting ceremony. 
Not only did local politicians such as, Watervliet Mayor Michael Manning, Assemblyman John T. McDonald III, Senator Neil Breslin & Congressman Paul Tonko attend, but also health agencies, fellow colleagues, and members of the community joined together to celebrate the new facility. "We are thrilled by the warm welcome we have received in Watervliet and look forward to being an integral part of this community," says President & CEO David Shippee during the press conference. 
Watervliet Mayor Mike Manning adds, "Every single member of our community deserves access to quality healthcare, and by opening the doors to this Health Center, we have taken a step forward in making that a reality. This expansion will provide essential medical, dental and behavioral health services to so many of our friends and neighbors who previously had limited access to care. A sincere thank you to Whitney Young Health for helping to improve the health and well being of so many residents and their families here in Watervliet, and we welcome you with open arms to our community."
Pictured (left to right): Watervliet Mayor Michael Manning, Assemblyman John T. McDonald III, Senator Neil Breslin & Congressman Paul Tonko
WYH offered various services throughout the day including, tours of the facility, meeting the staff and voter registration. It gave a chance for new patients to get a look of the place and for us to show off the beautiful facility!
Many agencies such as, CDPHP, WellCare, and Fedelis Care attended the open house to assist patients with insurance enrollment 
We also had appearances from Capital Roots, who's Veggie Mobile makes stops near three of our healthcare facilities selling affordable fruits and vegetables.
Beech Nut, a natural baby food brand located in Amsterdam, also attended to educate attendees on how the organic baby food brand and even gave of a gift basket in a raffle! 
We could not have done had such a successful event without our sponsor, United Healthcare. Thank you to everyone who attended the open house and helped us celebrate another milestone in WYH's history. Stay in the loop with us and upcoming announcements on how we plan to expand our healthcare even more!