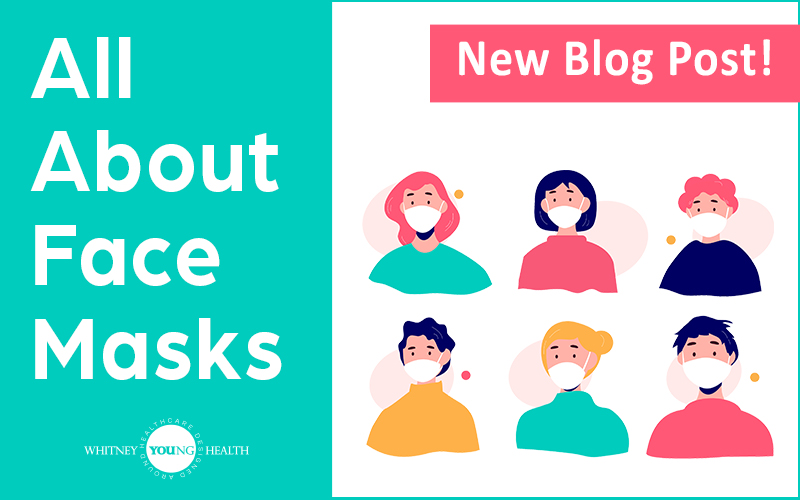 Wearing face masks when we leave our homes to go to a public place has become an important part of our everyday lives during the COVID-19 pandemic.
Here are some tips about different kinds of masks, how to wear them, clean them and dispose of them. There are also directions on how to make your own cloth mask – even if you don't sew.
Disposable Paper masks
These masks usually either have elastic loops that go around the ears, or strings that tie around the back of the head.
Wash your hands before applying the mask.

Identify the outside of the mask. The side with a color or design goes on the outside. If the color is the same on the inside and outside of the mask, initial the outside.

Grasp from ear loops and apply by loops.

Secure under the chin and pinch around nose. (The area that goes over the bridge of the nose has a flexible band that you can adjust to fit securely.)

Wash hands after application.

Never touch the outside of the mask

Don't pull the full mask down over chin or dangle off one ear. This practice may cause cross contamination.

When taking off mask, fold it in half so outside surfaces are touching each other.

Masks may be stored in a zip lock or paper bag.

Again, wash hands before and after removal and application.

Discard when wet, soiled or at the end of a shift.

Children under the age of 2 years should not be masked.
Cloth Masks
The CDC recommends wearing cloth face-coverings in public settings where social distancing measures are difficult to maintain, like grocery stores and pharmacies. Simple cloth face coverings help slow the spread of the virus and help people who may have the virus and not know it from transmitting it to others.
Cloth face masks should:
Fit snuggly but comfortably to the sides of the face

Be secured with ties or ear loops

Include multiple layers of fabric

Allow for breathing without restriction.

Be able to be laundered and machine-dried without damage or change to the shape of the mask
Cloth face coverings should not be placed on:
Young children under the age of 2,

Anyone who has trouble breathing, or

Anyone who is unconscious, incapacitated or otherwise unable to remove the face covering without assistance.
Caring for your cloth mask
Cloth face coverings should be washed regularly based on how frequently they are used, or if they become soiled.

Use a washing machine and dryer to properly clean and sterilize your mask.

To safely remove a used cloth face covering, be careful not to touch your eyes, nose and mouth, then wash your hands immediately after removing.
If you would like to make your own cloth face mask or face covering, click HERE for directions on how, including no-sew options.