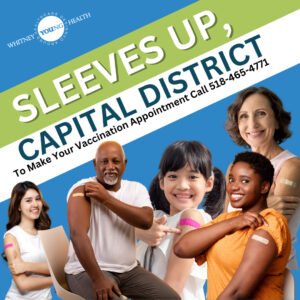 Get your vaccines at Whitney Young Health! Get caught up on immunizations that you and your family need to stay healthy! Call us at 518-465-4771 or visit one of our health centers to make an appointment for your vaccines today!
Whitney Young Health – Albany Health Center
Whitney Young Health – Swinburne Health Center
Whitney Young Health – Troy Health Center 
Whitney Young Health – Watervliet Health Center
Vaccines are the safest way to protect you, your children, and your community from a long list of serious and potentially life-threatening illnesses. Vaccines protect you by preparing your immune system to recognize and fight serious, and sometimes deadly, diseases including:
From infants to senior citizens, getting vaccines on time is one of the most important ways to protect yourself and others from serious diseases and infections. If you are a parent, the New York State Department of Health, the Centers for Disease Control and Prevention (CDC), and the American Academy of Pediatrics all recommend that you keep your children up-to-date with the recommended vaccination schedule. It's also important for adults to be sure that they have received all the vaccines recommended for adults.